The Art House subscribes to the Social Model of Disability. We go beyond ramps and lifts – our building and the people in it are here to provide time, space, and support for artists to develop their practice (catered to their individual needs).
Accessibility is at the heart of everything we do, with a particular focus on removing barriers to creative development and working towards providing a level playing field for everyone we work with or who visits us.
We have a legacy of working with – and providing support for – disabled artists: it's where our story started and the principles of diversity, equity, inclusion and belonging are something we are deeply passionate about. The Art House strives to be a place where both disabled and non-disabled artists and visitors can work alongside one another – not just because we value equality but because we believe that's where really interesting things can happen.
We also want to present art, events, and experiences in a way that visitors can engage with as easily as possible. See below for more information about our Access.
---
Exhibition Access
All of our gallery text and artist information is available in standard, large print and Braille format, as well as Dyslexia-friendly and Easy Read formats
Depending on the nature of each exhibition, we also provide additional access accommodations such as sensory ear defenders, Quier Hours, private viewings and more.
If you have other access requirements you would like to discuss with a member of the team, please do not hesitate to contact us.
You can take a Virtual Tour through our current/past exhibitions.
We offer exhibition private views by appointment for any visitor who is unable to visit during standard open hours. These sessions can be made Covid-safe with the use of mask-wearing and other precautions, and access accommodations can be made on an individual basis. Simply contact us by email or call us on 01924 312 000 with your date and time preference(s), and we will get back to you to confirm your appointment and respond to any specific access accommodations that you've requested.
We currently offer:
Monday – 09.00-16:00
Tuesday – Friday, 09:00 – 10:00 / 16:00 – 17:00
Saturday: 09:00 – 10:00 / 16:00 – 17:00
Our availability for bookings may change from time to time, so make sure to check back here when you're ready to make an appointment to see updated days and times.
---
An Accessible Building
The Art House building was designed to be exemplary in its accessibility for disabled users. We operate a continual improvement policy, working to make as many aspects of our building accessible to the widest range of people.
We currently offer;
– Level access throughout the building.
– Emergency call points throughout the building.
– Two disabled parking bays, available by pre-booking.
– Two-metre wide corridors, allowing two wheelchair/mobility aid/pushchair users or people with Guide dogs to pass comfortably in the corridor.
– Our Galleries are Guide and Support dog friendly
– All gender bathrooms of varying sizes to incorporate different access needs, including one with a shower.
– Paired communal sinks for Studio Holders with one at sitting and one at standing height.
– Height-adjustable working areas in our Maker Spaces, including Darkroom enlarger bays and a pottery wheel.
– Induction loops on the reception desk, Shop counter, print studio and in our Board Room.
– Flashing beacon fire alarms for hearing-impaired users.
– Sympathetic light levels for visually impaired visitors.
– Spacious self-catering flat with mobility aid-friendly en-suite bathrooms.
– Button-operated print press.
– Depending on the nature of each exhibition, we can offer Quiet Hours.
We welcome everyone and are a dog-friendly cafe and building. Some exhibitions may require dogs to be on leads.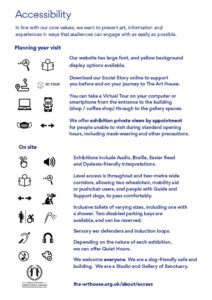 Download our Access sheet
Social Story
Download our Social Story now to support you on your journey to The Art House.
Social Story PDF
Braille Transcription Service
Our Braille Transcription Service can help you remove the barriers that people face when accessing written interpretation or text. We aim to provide a fast, accurate and affordable transcription service that will convert your documents into Braille.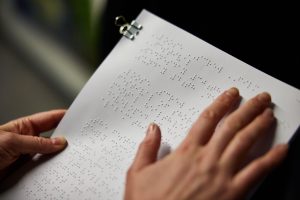 Virtual Tours
You can explore our exhibitions virtually – delving into photos, animations, videos, and exhibition interpretation. You can also tour through our mina entrance and Shop, and our open-air Terrace.