The Art House uses art, culture and creative processes to bring all people together. Through the Studio of Sanctuary, we bring together asylum seekers and refugees with the wider Wakefield population to work creatively and learn about each other.
We believe that developing and nurturing creativity, and valuing diversity, are all part of building a cohesive community. We are also a place where practitioners and organisations network, collaborate and develop stratagems for inclusiveness.
All Staff, Trustees, Studio Holders, Visiting Artists and partners are made aware of our inclusivity and commitment to embed the ethos of the City of Sanctuary movement within daily lives, projects and work. The Art House has wholeheartedly taken on the City of Sanctuary's mantra of Learn, Embed and Share and offers welcome, inclusion, integration and friendship as a norm.
---
Where it all began
The City of Sanctuary movement was founded in Sheffield in 2007, with the aim of creating welcoming and inclusive cities for people seeking asylum.
In 2017, The Art House became the UK's first-ever Studio of Sanctuary, and since then, we have set a high standard for other art venues to follow.
In 2023, we were thrilled to receive our second Sanctuary Award as Gallery of Sanctuary, and achieved the re-awarded status as Studio of Sanctuary. This acknowledgement is a recognition of our continuing commitment to supporting those seeking asylum in the country, as well as creating space within our galleries to profile artists with lived experiences of displacement.
---
Studio of Sanctuary: Supporting Creatives
Our award-winning Studio of Sanctuary supports artists or creatives who are in the asylum process, offering bursary studios and professional development to help rebuild their portfolios and transition to working in the UK creative sector.
During 2017-23, we supported 7 bursary studio artists, with the length of the support and a bespoke programme determined by the needs of the artists, but usually lasts 3-4 years. We also actively support artists, creatives and community members through the rigours of the asylum process, supporting them with legal assistance and mounting campaigns to prevent deportations. Our work with individuals demonstrates to wider communities that The Art House will stand with people regardless of race, ethnicity, culture, gender, sexual orientation or religious preference, and stand with communities to overcome social injustices. We are there for the difficult times as well as the celebratory times.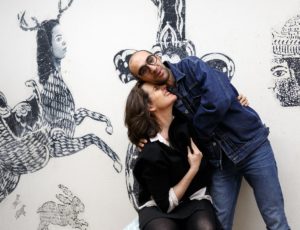 Studio of Sanctuary: Working with everyone
As well as supporting creatives, we offer inclusion, friendship, and integration for all individuals in the asylum process. We're committed to reflecting the people we aim to serve.
With the employment of a Studio of Sanctuary Coordinator, we can build working partner relationships that enable us to have an awareness of the current political situation of refugees and to evaluate how to respond to the needs of people.
The Art House is within walking distance from a major Initial Accommodation (IA) centre. People are welcomed into the building to join our free, relaxed, weekly creative sessions, which encourage the whole local community to meet and share conversations and skills.
We offer weekly creative skill-shares, textile workshops and Talk and Draw creative conversation sessions. Because they are free and open to everyone, these sessions allow people to meet others they may not necessarily cross paths with, and explore language and cultures using creativity as a tool. As of 2023, we are proud to have welcomed thousands of participants, of all ages, from over 15 countries.
These sessions are often the first point of contact for people exploring new surroundings and provide a welcoming space for those who are often isolated. They are led by Artist Facilitators with various lived experiences and use art to enable people to express thoughts and ideas. Regardless of language and skills, people share time and enthusiasm for creativity.
More info
---
Get in touch
Find out more about Studio of Sanctuary and how to get involved.
Contact us