Bijan Moosavi is an Iranian multi-media artist based in London, who describes himself as a Muslim entrepreneur and an Islamic Futurist. He creates films, music, performances, and installations which explore the implications of the expansion of neo-liberalism in the Middle East. Moosavi's work draws upon the aesthetics of corporate advertising, sci-fi movies, popular culture and the 'Islamic Kitsch' in order to examine dystopian tales of a fully neo-liberal Middle Eastern future.
Moosavi was invited to The Art House in 2017, as part of the Migration: International Residency, bringing together artists from India, Germany, Mexico, Belize and the UK to work alongside each other in Wakefield to explore ideas and develop new work on the themes of migration.
During his time onsite, the artist began exploring the important role that The Church of England has in dealing with the ongoing refugee crisis. He was inspired by its strong local network, which is deeply embedded in communities across the UK, as well as the Bible expressing the need to be 'welcoming [to] strangers and foreigners'.
At that time, as is still the case today, many asylum seekers and refugees in the UK were from Islamic backgrounds and Muslim-majority countries. Moosavi developed the Nasheed Choir to expand on the idea of 'welcoming', and created an 'inter-faith' conversation between Christianity and Islam in the realm of sound and sonic cultures. The artist invited a local church choir to perform Islamic vocal music to create a trans-religious experience in a choral format, accommodating its original melody within the traditions of a choir.
Nasheed Choir used an old Islamic song ('nasheed'), titled Tala' al-Badru Alayna (طَلعَ البَدرُ عَلَینا), which was sung to welcome the Prophet Muhammad as he took refuge in Medina over 1400 years ago. The song was arranged for two-part chorus, piano, and percussion by Laura Hawley and was published by Rhythmic Trident Music in 2016. Framed copies of music were given to St. John's Church and St. Michael's Church in Wakefield, both of whom work closely with asylum seekers and refugees through Wakefield District City of Sanctuary, a grassroots voluntary organisation.
Performances of the song took place during the opening of the MIGRATION exhibition at The Art House in Wakefield (UK) on May 26 2017.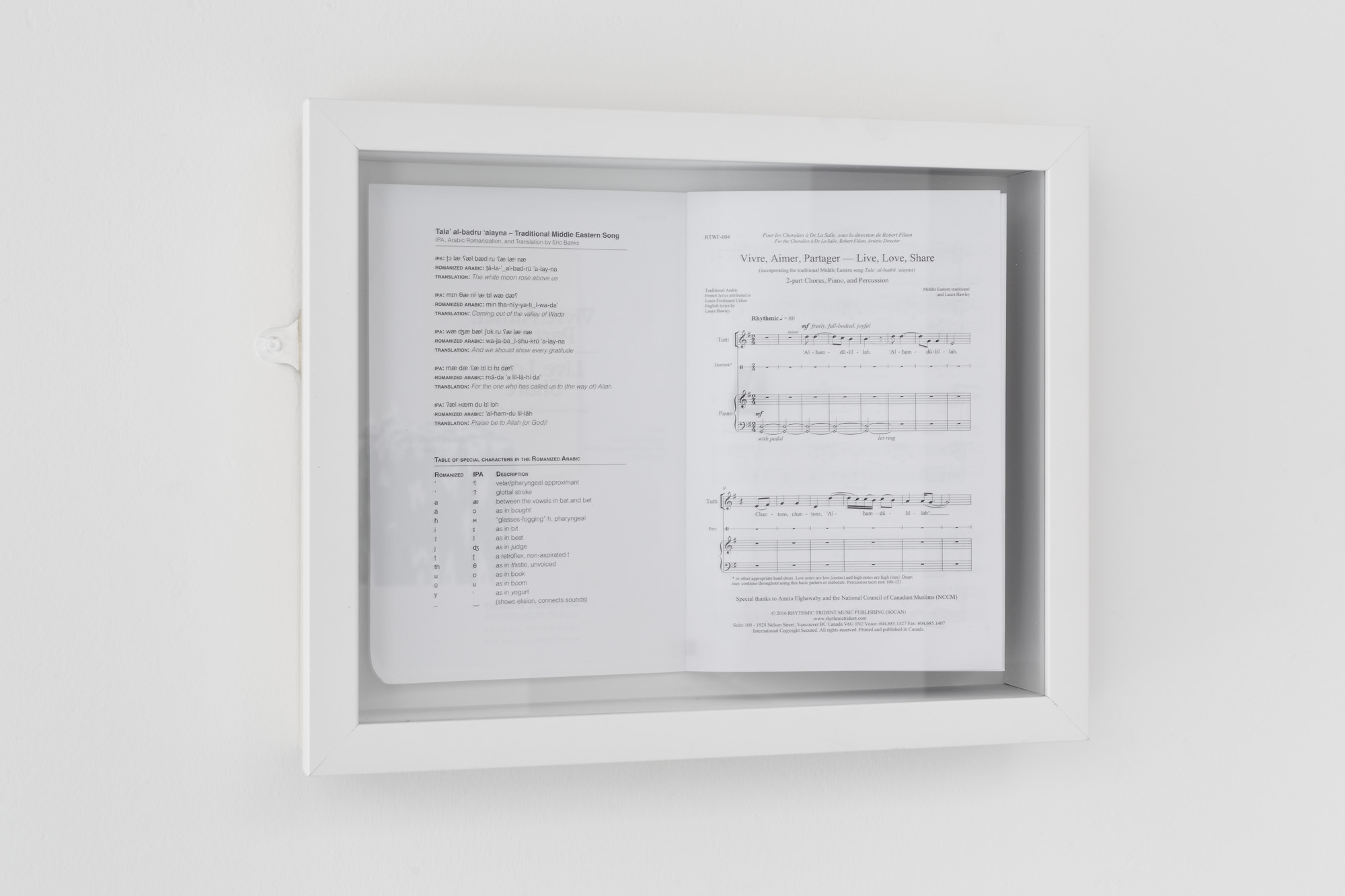 ---
Images:
Bijan Moozavi, Nasheed Choir Performance, 2017. Credit Peter Singleton.
Bijan Moozavi, Framed sheet music for Tala' al-Badru Alayna(طَلعَ البَدرُ عَلَینا), 2017. Credit Jules Lister.