For both artists, this is their first major residency and exhibition in the UK, and serves as a significant point of development for their practice and career internationally. In addition to this exhibition, they showed work at The Manchester Contemporary 2018, a fair which beings together critically engaged contemporary art for galleries and collectors in the North of England. Although they produce work in different media and contexts, both artists explore notions of identity and belonging to a certain place or people through their work.
Joey Chin's work Acts of Reading and Giving (Away) begins with her personal collection of English-language books published in Singapore during its transition from British colony to sovereign city-state. By choosing books which contain handwritten inscriptions for her work, Chin explores the personal stories (both real and imagined by the viewer) that relate to the people who gifted and received each book. The books themselves are ageing household objects that bear the marks and histories of those who owned them, as well as the story and text that they contain.
Chin held reading groups at The Art House during her residency, to further interrogate the relationship between the stories of the readers and owners of the books, as well as the stories within the books themselves.
Buhle Wonder Mbambo's deeply personal paintings, including a pieces titled [title here], and [other title here], consider the intergenerational relationships in contemporary Zulu communities, and the nature of his heritage in rural, urban, and township settings. Working predominantly in charcoal and acrylic, he uses collage to enhance his works, as well as simple methods of mark-making like walking across the canvases.
In Mbambo's pieces, realism collides with the surreal nature of dreams and abstract thought. Initially formed as individual self-portraits, the works shown in this exhibition begin to tell a broader story about post-apartheid South Africa.
Joey Chin
Joey Chin (1986) is an artist and Pushcart-nominated writer based in Singapore.
Her work is located at the intersection of text, narrative and visual art, staged through poetry, acts and modes of reading, and various disruptions. The key focus in her works is the development of personal communications between the self, markings of territoriality, and the inner conversations between the two.
She holds an MFA in Creative Writing (Poetry) from the City University of Hong Kong, and her work has received scholarships, grants, and awards from numerous organisations including the Dorothy Cheung Foundation, the National Arts Council (Singapore), the Run Run Shaw Library (Hong Kong), and the American Anthropological Association.
Buhle Wonder Mbambo
Buhle Wonder Mbambo is a Durban-based visual artist from Kwa-Ngcolosi.
Mbambo's paintings offer deeply personal responses to his life, and the socio-political landscape of South Africa. Dealing with issues around masculinity, family structures and the weight of traditional values, the works illustrate a complex narrative behind the identity of contemporary Zulu practitioners.
Mbambo trained at BAT Centre Artists in Residency (AIR) Program, then studied Fine Art through the Velobala Apprenticeship program at Durban University of Technology, under the mentorship of Themba Shibase.
">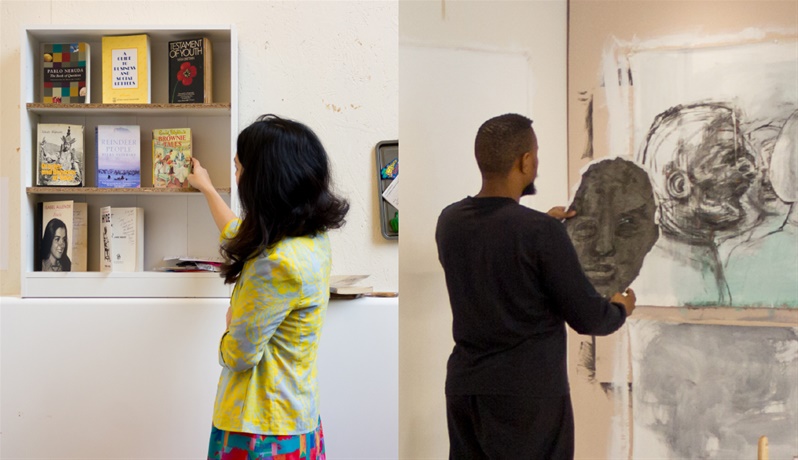 Image credits:
Image one: Joey Chin and Buhle Wonder Mbambo photographed in their studios at The Art House by Jules Lister
Image two: The Wife by Joey Chin courtesy of the artist
Image three: Imiyalezo by Buhle Wonder Mbambo courtesy of the artist