The Art House in Wakefield is thrilled to receive its second Sanctuary Award as Gallery of Sanctuary and achieve the re-awarded status as Studio of Sanctuary.
The Art House (TAH) became a Studio of Sanctuary in 2017; the first of its kind in the UK. In recognition of our ongoing commitment to supporting those seeking asylum in the country over the last six years, as well as creating space within our galleries to profile artists with lived experiences of displacement, we are now able to continue our work as a Gallery of Sanctuary.
Wakefield hosts many people in need of support whilst seeking asylum. In 2017 we began providing free studio space, professional development, and pastoral care for creatives temporarily based in the city. We understood the role that art can play in transcending language and culture, as well as bringing people together, and used this to help individuals who may experience stress and trauma in their everyday lives. We began helping creatives to rebuild portfolios and make connections so that when they hopefully get their UK resident status, they had skills and experiences ready to begin working in creative industries. So far, we have supported seven bursary studio artists, several of whom have gone on to achieve great success.
Mohammad Barrangi was introduced to us 6 years ago and has been supported by us since. In 2022, TAH staged his first major solo exhibition: Barrangi is now internationally renowned. Today, he has artwork in the permanent collections of the British Museum, the Royal Collection, the Government Art Collection and the Los Angeles Museum of Art.
Hamid Hamza, better known in Wakefield as Wakefield Tailoring, began using donated sewing machines to use skills he'd brought with him from his home in Iran to do voluntary work. In 2022, we subsidised a shop in a local shopping centre so Hamza could set up his own tailoring business. Hamza now operates his business entirely independently from TAH and has a regular clientele that continues to build.
As well as supporting creatives, we offer inclusion, friendship, and integration for all individuals in the asylum process. With the recent employment of a Studio of Sanctuary Coordinator, we can offer free weekly creative skill-shares, textile workshops and Talk and Draw creative conversation sessions. Open to everyone, these sessions allow people to meet others they may not necessarily cross paths with otherwise, and explore language and cultures using creativity as a tool. To date, we are proud to have welcomed thousands of participants, of all ages, from over 15 countries.
Whilst we have seen our Studio of Sanctuary work go from strength to strength, the journey has not been without its upsets. Sydney Thornbury, CEO of The Art House explains:
"We have been in detention centres fighting for artists to be released, held people in our arms while they sobbed with homesickness, and breathed in sighs of relief when our lawyers called us with the news that a beloved artist had been taken off a deportation flight hours before it left. In many ways, Studio of Sanctuary is the hardest work we do. But for us, it is also the most rewarding."
Today, Studio of Sanctuary is a core part of TAH which, in Wakefield, means a great deal as the city is home to an anti-immigration movement. Our recent three-year grant from The Paul Hamlyn Foundation has enabled us to further our work in developing TAH as a key hub for people seeking immigration support in the region, including implementing a 'Sanctuary Network' in Wakefield. This, alongside winning the 2022 Gulbenkian Civic Arts Award, demonstrates our ability to bring the same amount of passion to solving social issues in our community, as we do to making art.
Our latest achievement of Gallery of Sanctuary status strengthens our aforementioned commitments and amplifies that, for us, both our Studio and Gallery titles are more than programmes – they're a way of life.
Since TAH was founded, we have embedded an inclusive and welcoming culture throughout the venue. Initially set up as a hub to provide studio space for disabled and non-disabled artists to work together, our artistic programme offers residency and exhibition opportunities for those who have been traditionally marginalised due to race, gender, class, or disability.
In harmony with the City of Sanctuary's mantra of Learn, Embed, and Share, our commitment as a platform for sharing stories of lived displacement and seeking asylum, has become a major strand within our programming. Over the last 6 years, we have represented those in the process, recently settled and second and third-generation artists. Visiting artists from non-displaced backgrounds are encouraged to sensitively engage with bursary studio holders, emerging artists and local people experiencing the asylum process.
Damon Jackson-Waldock, Programme Director at TAH says: "Our bold, ambitious programme truly reflects our belief that everyone deserves to enjoy art, especially those who have, or are facing barriers. I'm immensely proud to work with and support those from displaced backgrounds. I speak on behalf of the team when I say we don't do it for the title but being awarded Gallery of Sanctuary status is an incredible acknowledgement of our commitment.
This achievement doesn't happen overnight, and I wish to thank everyone, past and present, who has played a part in getting to this point. I look forward to further developing our work and to act as an advocate for more arts institutions to embed this practice in a meaningful way."
Ashley Beckett, Coordinator, Arts and Libraries Streams Lead, at City of Sanctuary says:
"The Art House in Wakefield is leading the way in how to support artists, especially those that may have lived experience in seeking sanctuary, with respect and compassion. City of Sanctuary is delighted to award them both a Studio and Gallery of Sanctuary award, and looks forward to seeing all the things to come from them soon".
This summer, TAH will implement a 'Sanctuary Network' of Council departments, alongside third-sector and arts organisations. If you're interested in having your group join, please contact TAH Studio of Sanctuary Coordinator, Linda Fielding, linda@the-arthouse.org.uk.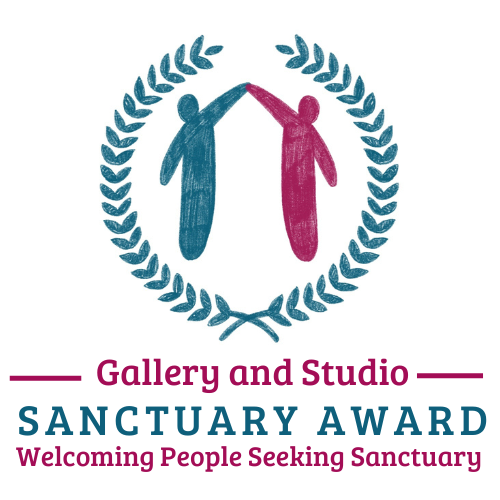 ---
Header Image: Ifa Abebe, Ranya Abdulateef and Permindar Kaur, Dream Runner (2022). Photo credit: David Lindsay
First Image: Mohammad Barrangi, Dreamland (2022). Photo credit: David Lindsay.
Second Image: Samuel Nnorom, The Politics of Immigration and Integration (2023). Photo credit: Emily Ryalls.