Amy D'Agorne | Caitlin Hall | Emily Ryalls | H.Feather | Joanne Coates | Níamh Donnelly | Sally Barton
The Art House and The Hepworth Wakefield present Reframing, Reclaiming, an exhibition bringing together the works of seven female and non-binary artists living, or with roots, in Yorkshire. The collection of works, though created independently, collectively speaks to an experience known and related to by many.
In a timely exhibition confronting and representing a modern existence, the artists explore themes of class and labour, body and identity politics. Through their individual perspectives and lenses, the seven exhibitors each utilise the camera to share thoughts and common understandings. Photographically, the works presented engage in a number of conversations, including a much wider dialogue on the importance of creating stages for female and non-binary practitioners.
The Art House is delighted to share some of the best early career and emerging photographers from, or based, in Yorkshire. The project includes Amy D'Agorne, Caitlin Hall, Emily Ryalls, H.Feather, Joanne Coates, Níamh Donnelly, and Sally Barton.
Reframing, Reclaiming includes brand new work created by the artists this summer, during a partnership project with The Hepworth Wakefield, which included a professional development programme with renowned British photographer Hannah Starkey. The exhibition coincides with the forthcoming exhibition Hannah Starkey: In Real Life at The Hepworth Wakefield.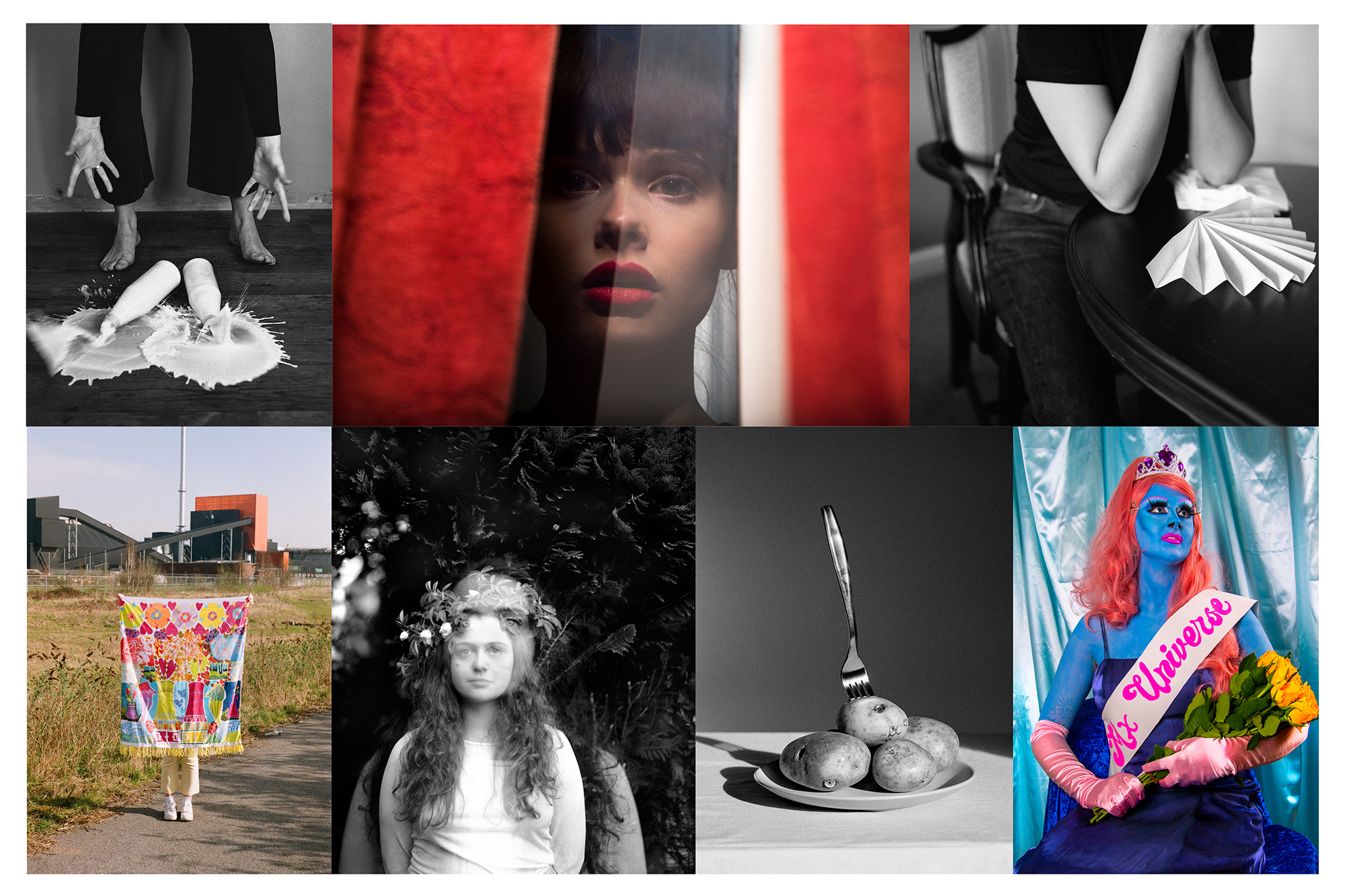 ---
About the artists

Amy D'Agorne is a Yorkshire-born and based photographer who graduated with her BA in Photography from Edinburgh School of Art, The University of Edinburgh with First Class Hons in 2015. Her work primarily consists of long-form, research-based projects that play in the area between documentary and fine art photography. Her practice primarily investigates the prevalent issues related to climate change; such as food sovereignty, corporate agriculture, fossil fuel extraction, and the many-faceted ways that late-stage capitalism presents itself. All as seen through a feminist lens.
Find out more > 
Caitlin Hall is a Leeds-based photographer whose work is inspired by tableau, film, fashion and feminism. She draws upon her experiences of being a female, with gender being a prevalent theme within her work.  Hall describes photography as a way to navigate a male-dominated society and explore what it means to be female and the concept of femininity. Her works represent historic feminine tropes from traditionally voyeuristic male perspectives and transforms them into a form of female representation.
Find out more >
Emily Ryalls is a Wakefield-based artist working predominantly with the intersection of photography and performance. Her practice is rooted in blurring the lines between a divided photographer/subject relationship and creating meaningful and collaborative works that examine and prompt crucial conversation on the role of photography as a non-exploitive means of co-production and connection. Recently, Emily led the build and development of a community darkroom at The Art House, Wakefield, which she now programmes and teaches in as the only one of its kind in the UK.
Find out more >
H.Feathers is a Leeds-based artist. Rooted in photography, their unpredictable practice uses multiple approaches to challenge their work and produce vibrant and reflective responses to their subject. Inspired by their community, surroundings and the unique characters they meet along their journey. Their lens explores both the boundaries of photography and societal expectations, looking at themes of identity with a focus on representation, gender, queerness and femininity creating narratives surrounding their subject.
Find out more >
Joanne Coates is a working-class artist and photographer. She is interested in rurality, hidden histories and class. Born in the rural North of England, educated first in working-class alternative communities, then at The Sir John Cass School of Fine Art) and The London College of Communication. Her practice is as much about process, participation and working with communities as the still image. Coates' work has been exhibited both in the UK and internationally, her work is held in the permanent collections of MIMA. She is the founder of Lens Think, a Social Enterprise based in Yorkshire and the North East to make opportunities and access for marginalised groups and develop photography in the North of England.). Coates is the joint winner of the Jerwood / Photoworks award 4. 
Find out more >
Níamh Donnelly is a Wakefield-based visual artist concerned with a tender approach to representation, allegory and storytelling through photography. Her work is largely influenced both by her Irish heritage, and her experiences of being female. She uses photography as a means to understand the world around her, and to state her place within it. She is particularly interested in the relationships between spaces, places and people. Recently Donnelly has advised on a public art programme for Wakefield, and produced the 2022 Graduate Showcase publication for Pupil Sphere, a platform for early career and graduate photographers.
Find out more >
Sally Barton is a multidisciplinary artist based in London. Graduating from Chelsea College of Arts in 2021, her practice explores her relationship to her hometown of Sheffield, stories of industrial history and masculinity. Barton aims to reimagine the aesthetics of the North of England through photography, performance and installation. She has spent the last two years as a member of the Barbican Young Visual Arts Group, exhibiting with the centre on three occasions, and is currently a member of the ACME Associate Studio Programme.
Find out more >